We at CENTRAL Intellectual Property & Law recognize the international business community's need for innovative yet cost-effective legal representation. It is our priority to ensure that we are in a position to satisfy the needs of our clients and able to meet each client's legal and business objectives according to the highest standards of excellence and efficiency.

Complete client satisfaction is our constant and primary aim. We have in place a system for accurate and responsive communication with our clients that helps us provide committed, quality services that are tailored to the specific needs of each valuable client. Since reasonable costs are of significant interest in the current global economy, we make every effort to reduce costs whenever appropriate and possible at each step and to eliminate unnecessary or duplicative work.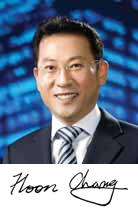 A large organization with long experience means work stability and consistency. We are the oldest and one of the
largest full service law firms with a focus on IP law in Korea. We are proud of our comprehensive and intricate work
system – unceasingly developed over decades since our establishment that allows us to provide accurate and fully researched services efficiently, keep deadlines without fail and smoothly manage changes in law and examination practices.
Finally, we firmly believe that service quality is largely dependent on those who provide it. Our firm's
well-established reputation and client- and people-oriented culture have allowed us to build a talented and richly experienced team of attorneys at law, patent/trademark attorneys and U.S. licensed attorneys, including former examiners and judges, and a support staff with highly specialized expertise.

We thank you for your interest in CENTRAL. Please rest assured that any comments, feedback or questions you may have
about us will receive our utmost attention. We look forward to the opportunity to provide you with our committed services.